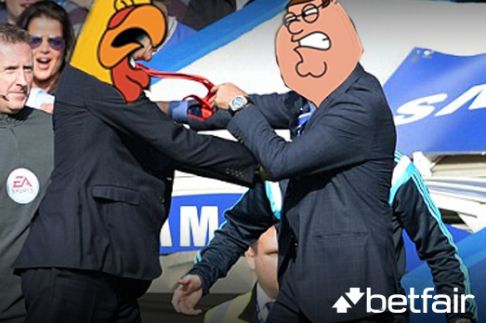 Because he always gets the better of Wenger
Being the sort of man who needs a nemesis to fire on all cylinders Ferguson got stuck into Wenger from the get-go, hurling brickbats aplenty with his Govan growl. Wenger would typically respond with pointed aloofness such as this verbal swapping away of a fly in 2005 – "He doesn't interest me and doesn't matter to me at all."
True to type that's 1-0 to the Arse.
Mourinho though, now here was a different proposition. There's no friendly fire when the Portuguese mindbender indulges in a war of words, only the releasing of nerve-gas as he seeks to get right under the skin. His 'specialist in failure' comment made those of a delicate disposition wince while his 'voyeur' barb was straight from a psychotic exes' character assassination handbook.
Silverware
There's no disputing that Sir Alex built an imperious dynasty at Old Trafford and his 13 titles in 26 years amounts to an incredible achievement. Arsene Wenger meanwhile has maintained a beautiful property in north London with stunning furniture that wouldn't look out of place in a stately home. Yet with only three Premier League trophies in the cabinet there's no rush to replace the Pledge just yet.
Barring an unimaginable calamity Mourinho is on course to secure his third title in five years at the Bridge; five years broken up by the small matter of winning La Liga for Real Madrid and the Champion's League for Inter.
Fair, skewed, or otherwise stats are stats and per season in charge that's 60% for the Special One, 50% for Fergie, and a measly 17% for Le Prof.
Entertainment value
There are plenty of managers who give good quote but none compare to the Mourinho circus of quips, digs, and paranoid ramblings.
Whatever his mood the man is box-office gold.
[embedded content]
Because his transfer record is second to none
They used to say that Brian Clough always knew a good player but His Greatness still signed Gary Megson for a hefty fee before deciding immediately after that he 'couldn't trap a bag of cement'.
They said similar of Sir Alex Ferguson but His Grouchiness still snotted £7.4m on Bebe and once believed David Bellion was capable of putting a ball into a goal.
A mixed early splurge aside find one costly dud from the 45 players Mourinho has swooped for at the Bridge. They are remarkably few and far between and worse yet for Chelsea's peers Jose is only getting better in the market. Signing Fabregas and Costa for the same figure as the departing Schurrle and hapless Luiz, well that's just genius.
Because even Van Gaal says so
Back in January 2014 the Dutchman bowed his massive forehead to the most special of ones. "I am always 'the arrogant Louis van Gaal' but now I am humble because he is better than me."
The tribute was magnanimous and classy but you were preaching to the converted Louis. We're all perfectly aware that Jose is the best.