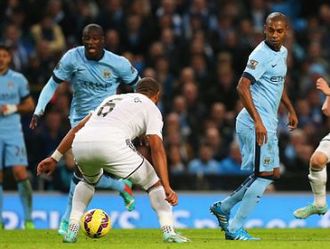 It has been a week to forget for Manchester City with two potentially season defining defeats to Barcelona and Liverpool. Manuel Pellegrini may have engineered a domestic double last term but City fan Stephen Tudor insists that enough is enough – he wants the Chilean gone. Here's why…
1) 4-4-2
A spectrum of stubbornness would begin with a child sticking their fingers in their ears and going 'La-la-la'. It would then touch upon anyone in a relationship who refused to admit they were wrong to throw that vase during last week's row. Further along the spectrum reveals a picture of a mule, digging their hooves into the dirt and whinnying their displeasure.
Right at the far end, where the colours blur into insanity you'll find Manuel Pellegrini's insistence on sticking with 4-4-2. Doing so against Barcelona isn't on there. That's off the scale.
The Chilean's allergy to bolstering his midfield was a great source of exasperation among City supporters even when it brought them a title last May. Back then Kompany would often be horribly exposed but his exemplary last-ditch defending sticky-taped over the problem. Now he is struggling, woefully lacking in form and confidence. Now he needs protection.
Back then opposition teams would think twice about committing too many players forward during a break, fearful of a swift retaliation should they lose possession. Now that spell is broken and even inferior opponents think nothing of over-loading when pushing forward, to fully capitalise on the gaping spaces left, right and centre.
Diego Simeone has proven at Atletico Madrid that the system can work so long as the set-up is built on lung-busting work-ethic and solidity. You will never get – not should you expect – such grafting ethics from Silva and Nasri.
2) No plan B
Pellegrini does have a Plan B. The problem is that it's identical to Plan A only with the addition of James Milner to bring more energy to it.
Sunday's defeat at Anfield is the perfect case in point. Any watching punter and his guide dog could clearly see that employing Yaya Toure and Fernandinho in a two-man midfield against a high-pressing reinvigorated Liverpool was a fool's errand. The waspish trio of Coutinho, Lallana, and Sterling were revelling in proverbial acres and all-too-often from a straightforward pass from deep. City were being opened up at will.
With enforcer Fernando twiddling his thumbs on the bench Pellegrini's reaction was to revert to a 4-4-1-1, bringing Dzeko off and placing Milner out wide. This essentially gave a tiring David Silva two conflicting duties: To take on the additional onus of creativity from the departed Dzeko while attempting to cut the through balls off at the source. The gaps ahead of a struggling City backline meanwhile remained farcically unplugged.
3) Slow out of the blocks
City supporters delight in declaring their team fights 'till the end. This season they've had to. From the 40 competitive games in all competitions Manchester City have played this term they have conceded first on 17 occasions with 11 of those in the opening 25 minutes. That's an astonishing quarter of games the Champions of England – with a previously formidable defensive record – have been breached in the first quarter of a match.
Yet even those stats don't tell the full story. Time and again City start off sluggish, pedestrian, and lacking ideas. Off the ball they appear disorganised, allowing vast chasms of space usually only seen when a game becomes stretched. In possession their trademark fluid probing is reduced to predictable ABC fare.
Only when they go behind do the players wake from their stupor, jolted into sentience from Pellegrini's passive pre-match team-talk. Which leads us to…
4) Passivity comes to pass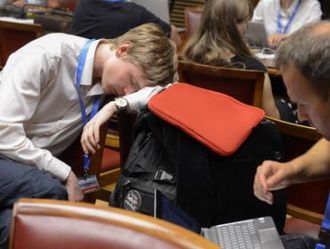 Away from the silverware Roberto Mancini was a maelstrom of meltdowns and discord. So it was only natural that City sought a more calming influence to herald in their 'holistic' approach. The avuncular Pellegrini seemed the perfect choice – a benign figure to bring harmony back to the dressing room and encourage the players to express themselves and enjoy their football again. A happy Kompany is a better Kompany right?
Wrong. Quite disastrously so in fact. A slew of underwhelming, unmotivated performances reveals this squad of players respond far more to the whip than ego-massages and a kindly smile.
The in-joke among journalists is that an alarm clock is required at City press conferences in order to wake them once Pellegrini is finished speaking. Maybe one is also needed to be set for 2.55pm on Saturdays?
5) Cup exits
Uninspired cup exits to Newcastle and Middlesborough would arguably be enough to question Pellegrini's tenure on their own. Each upset was accompanied by typically baffling team selections and unacceptable complacency and has resulted in a likely barren year for the Blues.
The 'Engineer' was brought in to build on Mancini's divided legacy; to unite a fantastically talented squad and take them to stage two of the masterplan. Despite last season's title can anyone seriously claim this is happening?
Manchester City are presently stuck in reverse and the man in the driving seat has to be made culpable.
***
Do you agree with Stephen – should Pellegrini be sacked? Or does the Chilean deserve more time? Let us know by commenting below or tweeting @Betfair