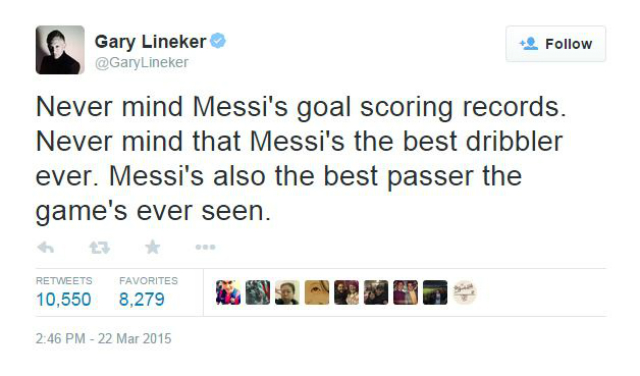 With Barcelona and PSG facing off tonight to decide who will reach the Champions League Semi-Final, we take a look at how their two great talismans, Lionel Messi and Zlatan Ibrahimovic, compare in an old fashioned Champions League STAT-OFF!
We asked our friends at WhoScored.com to lend a hand in looking at how both players have performed in Europe since 2009. Here are the results:
Goals: Zlatan 27 – 58 Messi
Having turned out for no less than SIX clubs in the Champions League, Zlatan currently ranks 11th in the all-time Champions League goal-scoring charts. In this particular statistical match-up, Messi sits streets ahead of the Swede with the Barcelona striker tied with Cristiano Ronaldo as the highest Champions League goalscorer in history with an incredible 75 goals to his name.
But if the quality of the goal counted for double, then rest assured Zlatan would be a lot closer with efforts like these:
Assists: Zlatan 13 – 14 Messi
This is the only category where Zlatan comes close to matching Messi's numbers. Yet glimpse beneath the stats again and you'll see it's the unmatched artisry of Leo's passing which makes him such a joy to watch. A certain England legend hit the nail on the head when he tweeted:
Few footballers in the world have the ability to take four defenders out with one pass like this…
Minutes per dribble: Zlatan 149 – 18 Messi
One area where the numbers don't lie. Unlike Messi, Ibrahimovic has always been celebrated for his maverick indifference to any real physical exertion like 'dribbling'. Admittedly, few players do compare favourably when held against the little Argentine's dribbling stats. At an average of 18 minutes a dribble, it's no surprise you rarely go a game without seeing Leo Messi embarrassing some unfortunate opponent with these lightning feet…
One thing is for certain, we're privileged to be able to watch two geniuses like these two in full flow and one of the two will certainly put their stamp on the occasion.
You can back Zlatan at 13/2 to score first whilst Messi is the 3/1 favourite to open the scoring in the Camp Nou.