This year's Champions League semi-finals are strictly establishment only, a land of the giants that has brought together arguably the four most prestigious clubs in world football.
Celebrating this mouth-watering fact somebody has designed these and they're amazing. A retro redesign of the iconic colours of Real Madrid, Barcelona, Bayern Munich, and Juventus they're classy, classic, and would look ace down the pub for anyone who's successfully managed to shed their winter snack-belly.
The beauties are befitting not only because each club has bestrode the game, cocky, imperious, and gobbling up silverware like Eamonn Holmes at a free buffet. They're also known for their style with only Bayern radically changing their kit down the years and even then – for a country that still thinks stonewashed jeans will lead to sex – with rarely a misstep.
Here are some of our favourites from a collective back catalogue so cool it doesn't break sweat.
Real Madrid 1950s
The football equivalent of Coco Chanel's little black dress. Imagine being Adidas' kit designer each summer –
"We're thinking of making a change. Something a little more 'street', a little more…"
"You're fired"
The seminal all-white design may be festooned with advertising these days but the remit remains the same – we're Real Madrid, we play in white, and we will beat you. Even so, it never looked better than when adorned by Di Stefano.
Barcelona 2006
The Catalan behemoths may have deviated from two stripes to three and back again throughout their history but the red and blue remained sacred as too did their tradition of foregoing shirt sponsorship. Why crayon on a masterpiece? This all changed in 2006 with the club agreeing to pay 1.5m Euros each year to UNICEF while allowing the charity's logo to be emblazoned on their shirts. More than a club? Perhaps. More than a shirt? Definitely.
Juventus 2013/14 away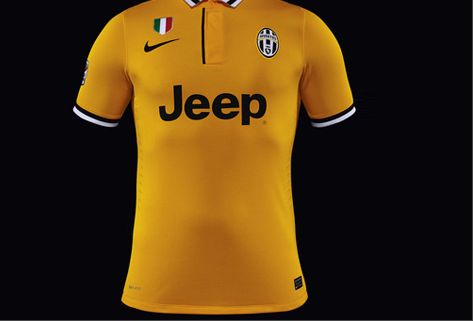 There's an awful lot to be said for the Zidane-era Kappa design or indeed the open-necked number sported by Platini in his pomp. But really, when it comes to their homes you can't go too far wrong with any variations of the bianco and nero for i bianconeri.
The Old Lady's away strips meanwhile have a chequered past ranging from the stonkingly garish to this elegant, clean design. From buttoned collar to understated striped cuffs this is a winner. Bello.
Bayern Munich 1996 away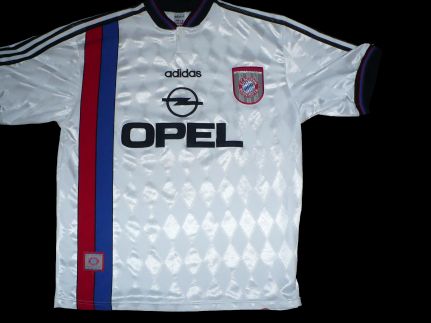 They say that the 1980s is the decade that fashion forgot. Football waited a few more years to lose its tastebuds and the early-to-mid nineties is awash with vomit-splashed strips that could induce epileptic attacks. Credit then to Bayern for this duel-toned harlequin offering that is admittedly very much of its time but with a blue and red sash and silver badge was a class above its contemporaries.
The best and worst right now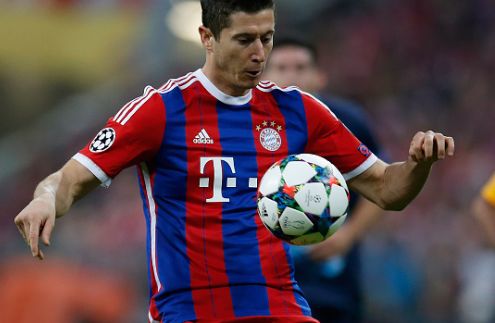 The Germans are the surprise winners from the present bunch too. With thin and thick stripes and a sleek design complete with white trim it's an impressive effort that somehow incorporates Bayern's imperious pedigree. Even the sponsorship embellishes the design which is a rare occurrence indeed.Probably best not to wear it anywhere that votes UKIP mind.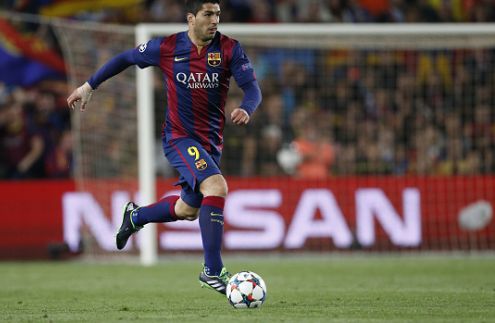 It seems incongruous to pick out a worst from the quartet on show on May 5th/6th which is a measure on how far kit design has come. But is it only us who feels conflicted seeing the expensively-attained sponsorship deal now splattered across the red and blue landscape? From a well-meaning charitable venture to a £120M corporate trade-off. As Johnny Rotten once said, ever get the feeling you've been cheated?
***
What are your favourite kits of all time? Let us know by commenting below or tweeting @Betfair!